Textures, Brutai and Godsticks
Textures, Brutai and Godsticks – Live at the Underworld Camden
Last Thursday I shot three great bands at the Underworld Camden: Textures, Brutai and Godsticks. Great music and great musicians playing that night.
Godsticks opened the night. I had seen these guys from Wales before, as a supporting band for some international gigs here in London – great musicians. Brutai was the second band, delivering a cool performance. And finally, Textures from the Netherlands closed the night.
Brutai and Godsticks gigs were quite straightforward to shoot, as I am used to The Underworld lighting system. The challenge was the Textures gig. The band brought their own lighting system, which created a nice dark effect for the audience. However, it was mainly directional spotlights behind the band and some strobes, with a high background light and almost no key light from the house's light system. The result was that some pictures went black, as I tried to sync the camera shutter with the strobes and sometimes it didn't work. Another issue was the lack of light, as for much of the gig, only the band's lights were used. Although a very difficult gig to shoot, it was really worth it and I managed to get some good photos.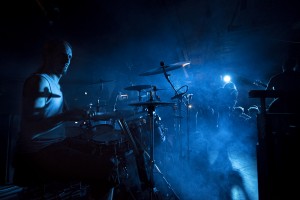 https://www.victorguidini.co.uk/wp-content/uploads/2016/03/Textures-London-music-photographer-Victor-Guidini.jpg
1000
668
Victor Guidini
https://victorguidini.co.uk/wp-content/uploads/2016/02/assinatura-victor-guidini-1.png
Victor Guidini
2016-02-11 23:38:05
2017-11-30 12:18:11
Textures, Brutai and Godsticks